---
During the quickly evolving COVID-19 situation, we are monitoring training plans day-by-day. We will be deciding on how to proceed with currently planned training events based on the official guidance of public organizations, size and scale of events, location, and the decisions of our hosting agencies. The health and well-being of our staff, trainers and participants is of utmost importance.
Participants should make their own decisions regarding traveling to and attending group events, in conjunction with their health care provider and employer. We understand that, given the situation, registered participants may decide to not attend events.
As soon as a decision is made to cancel or postpone an event that you are registered for, you will be notified by our staff.
---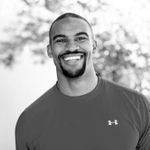 Presented by Anthony Trucks
At the age of three years old, Anthony Trucks was placed into the foster care system. It's a well-known fact that up to 50 percent of kids placed in the system will end up homeless upon emancipation, and 75% of prison inmates in the U.S. are former foster kids - needless to say, the odds were against him from the beginning. This looming reality was never lost on Anthony and he spent a good bulk of his childhood feeling adrift, unworthy, and listless. For years, he spent every day in survival mode, just trying to make it to the next day, week, and year in one piece. Join us as Anthony explains how he made the shift into his ideal identity and how he overcame his hardships.