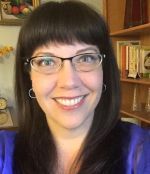 Ask the Expert with Cari Teran: Clinical Issues in Treatment after Child Abduction
Date: July 13, 2020
Time: 1:00pm - 2:00 pm PST
Once registered, participants will receive a 20-minute pre-recorded video. Participants are asked to submit questions based on the pre-recorded video to be answered during the live Ask the Expert session on July 13. 
Course Description:
This course will discuss common emotional and behavioral responses to parental abduction, along with trauma informed treatment interventions. Challenges with reintegration will be reviewed. 
Following this webinar, participants will be able to: 
1) Explain the abduction recovery process.
2) Apply new knowledge about abduction to clinical assessment and treatment planning. 
3) Identify common challenges during reintegration. 
Participants will have the chance to submit their questions before and during the session. 
Presenter:
Cari Teran, LMFT has spent 20 years in community mental health as a clinical supervisor and program director, overseeing clinical staff in trauma informed treatment with children and their families. Cari has extensive experience working with children who have endured complex trauma, sexual abuse, domestic violence, and abduction. With training in TFCBT, Child Parent Psychotherapy, Seeking Safety, Managing and Adapting Practices, and Infant Massage, Cari has a knowledge of evidence-based treatment options for children from birth and up. Cari is a member of the California State Child Abduction Task Force and the Los Angeles County ICAN Child Abduction Task Force, both of which provide an opportunity to collaborate with multidisciplinary teams regarding prevention and active cases. Cari has worked with over two dozen cases involving abduction and is currently in private practice in Seal Beach, California. In her spare time Cari enjoys succulent gardening and playing with her family and rescue dogs. 
If you have any questions or comments please contact Parasto Tabrizi at parasto.tabrizi@cirinc.org
Produced by the Child Abduction Training Project of the Center for Innovation and Resources, Inc. (CIR) in partnership with the California Child Abduction Task Force with funding from the California Governor's Office of Emergency Services (CalOES), made possible through the United State Department of Justice, Victims of Crime Act. 
Can't Find a Training That You Are Looking For?
Connect with our team so we can figure out how to best meet your training needs!