Training Opportunities
No More Silent Trainings: Get the Engagement You Want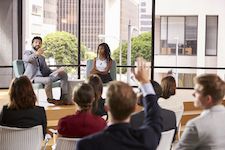 Are you frustrated with silence from non-engaged audiences during your trainings?
In our two-part, online training you will get an understanding of adult learning, practical tools for developing engaging curriculum, and tips for facilitating group discussions.
Find out more>>

Produced by the Child Abduction Training Project of the Center for Innovation and Resources, Inc. (CIR) in partnership with the California Child Abduction Task Force with funding from the California Governor's Office of Emergency Services (CalOES), made possible through the United States Department of Justice, Victims of Crime Act.
Can't Find a Training That You Are Looking For?
Connect with our team so we can figure out how to best meet your training needs!