Child Forensic Interview Training Long Beach 2020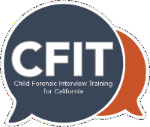 The Child Forensic Interview Training for California is a four-day introductory course intended for new child forensic interview specialists. This course will introduce child forensic interviewing within the context of multidisciplinary team investigations; interviewer and team responsibilities; interview models and techniques; child development of language and cognition as it applies to interviewing; disclosure dynamics; childhood trauma as it relates to interviewing. Experiential exercises and role-play activities are interwoven throughout the four-day training. Video of actual interviews will be shown whenever possible. Completion of this course does not certify you to conduct child forensic interviews- consult your County CAC/MDIT for local requirements.
Eligibility
:
ONLY professionals employed by governmental agencies or nonprofit agencies in the fields of law enforcement, prosecution, child protective services, social work, children's advocacy, therapy, and medicine who will be performing forensic interviews in a team-based and/or center-based program should attend this training. It is not appropriate for team members who will be observing, but not conducting, forensic interviews directly. Because this is experiential in nature, every participant is expected to participate in skill-building exercises and role-plays of forensic interviews. CATTA reserves the right to refuse admission to any individual who does not meet the eligibility criteria.