Partner Event: Munchausen by Proxy Child Abuse...Or is it?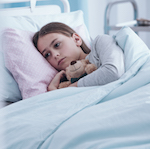 This training is presented by CAPSAC and has a registration fee.
This training will present national practice and management guidelines on Munchausen by Proxy: Abuse by Pediatric Condition Falsification, Caregiver-Fabricated Illness in a Child, or Medical Child Abuse Due to Factitious Disorder Imposed on Another. Course is designed for professionals in child protection, healthcare, law enforcement, family court, education, mental health, prosecution and defense. Bring your confusing or difficult cases to share with colleagues and review with experts.