How to Survive a Courtroom Attack - Training Full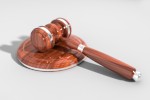 This interactive training will assist forensic interviewers in anticipating courtroom challenges, utilizing research-based responses and practicing testimony to make interviewers more comfortable in the courtroom setting. It is open to those currently conducting child forensic interviews as part of a center or team in California.
This training is full. Please send an email to kris.murphey@cirinc.org if you would like to be added to the waiting list.